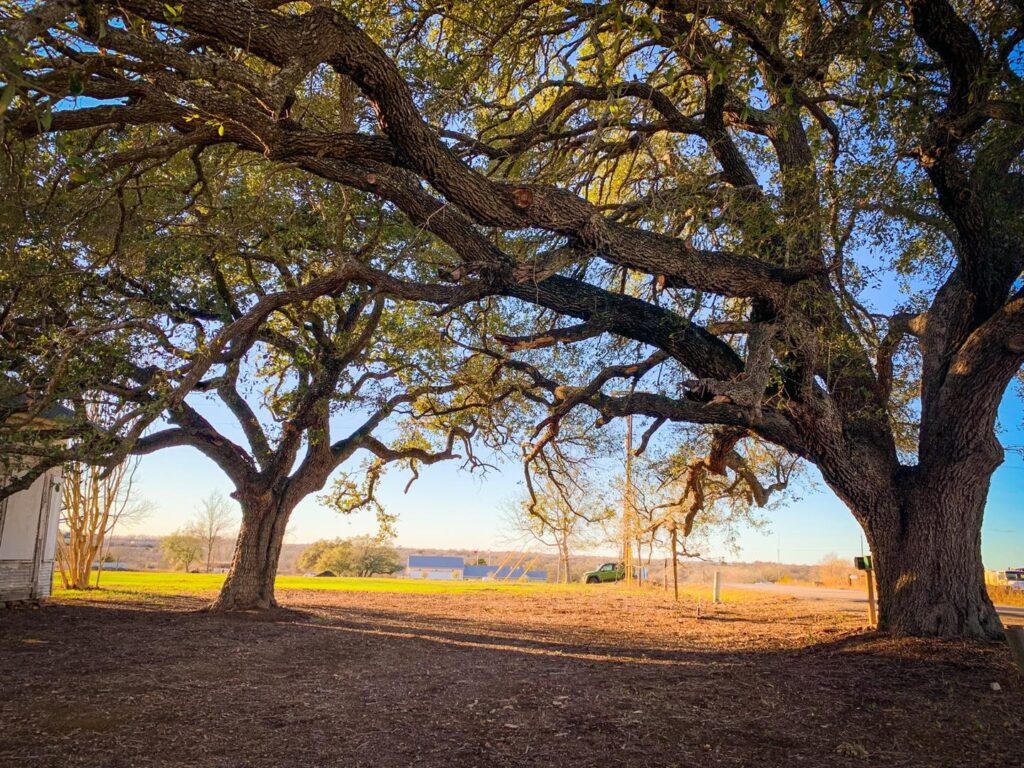 Natural. Stately.
Our namesake live oak trees will take your breath away. Each is over a hundred years old and have the twisting, arching branches that these native trees are well known for. The two stand guard in front of the old farm house and their canopies merge to form a natural arch.
We call them Annie and Andy, in honor of
the couple
that built the farmhouse a century ago. At their trunks, Annie has a circumference of 9 feet while Andy is a stately 14 feet! Today they form a beautiful setting for those  looking for a nature-inspired alternative to
The Sanctuary
.
Annie, the smaller tree closer to the house, is decked out in over 6500 warm white Christmas lights, creating a magical atmosphere for a evening or nighttime event. These lights are turned on for any ceremony and for special holidays.
The Oaks are located in the front yard of The Farmhouse, and seating can be arranged to your preferences. Depending on the set-up, more than 100 chairs can be set up an outdoor wedding under the trees' canopy.
Whether using them for a wedding venue or not, they make for a stunning photo opportunity. These trees, and the house, are the perfect backdrop for those looking for an authentic country, farm-house  for their engagement, graduation, or family photos.
These trees are part of our story. Let us help you discover how they can be part of your story, too.